Memories from the 1940s & 50s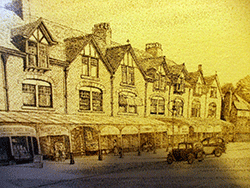 One of our members, Victor Cattan, has penned this article about his memories of the arcade. He's kindly agreed to share it with us below. 
Moorfield Arcade in the late 40s & early 50s
 Walking along Palatine Road towards Manchester and reaching Lapwing Lane, you would see on your left, Dr Goodfellow's house (now the four in hand public house) with a cameo of his departed daughter above the doorway, across the road was the destination board for Withington railway station, listing the wealth of places that could be reached.  On the right was the blue tiled taxi rank, usually occupied by an elderly bespectacled gentleman in chauffeur's uniform complete with peaked cap and breeches. He was in charge of an equally elderly Rolls-Royce taxi with hinged front windscreen, red Rolls-Royce badge and a spare wheel mounted on the side. Across the road were the cast iron columns and shops that made up Moorfield Arcade.
The first shop number 97 where Blockbuster video now stands was John Williams grocers whose name was proudly depicted in gold letters on a red background behind glass. They were part of a chain and had shops in Burton Road, Didsbury and Withington. The Produce section was dominated by a large red bacon slicer and the shop was managed by Mr Swainson clad in a white coat. Butter and cheese were cut off large blocks and wrapped to order. There was no checkout system and you would queue each time you purchased an item from a different section, so if you wished to buy cheese, tea and a can of peas and the shop happened to be busy, shopping could take the best part of a morning.
Next door number 99, now the post office, was a men's haberdashers, with drawers of shirts lining the wall and collar studs and collars in trays beneath glass topped counters. The shop was run by Mr Inman bespectacled and generally in a blue suit, the brother of Arthur Inman the newsagent. He was assisted by his son who, together with Arthur's son, later started Inman's taxi hire on Lapwing Lane behind Dr Goodfellow's house (now the extension to the Four In Hand public house). The shop was later taken by Ernest Saxe the tailor whose sign incorporated a pair of tailor's shears as the X in Saxe.
The third shop number 101, now Didsbury Kitchen, was Freeman Hardy and Willis the shoemakers. This was run by two energetic ladies and was lined from floor-to-ceiling with shoeboxes on light oak shelves.
Number 103, now Sterling Pharmacy, was split into two shops each with a door and half size display window. The first shop was called The Creamery, as the name suggests it supplied dairy produce. It was run by two elderly ladies who could be rather impatient with little boys who only came in to buy threepenny dried banana bars.
The second was Ashton Sydney the chemist, with the small window dominated by large round antique bottles filled with coloured liquids. Inside, rows of dark bottles with white enamel labels edged in black, red and gold, sat atop dark wooden shelves.  He, a tall dark haired figure clad in a white cotton jacket, would solemnly dispense prescriptions and seal the packets with red sealing wax melted by a gas jet. His wife would then hand the packet to the customer. In later years he lost his licence and his wife carried on the business for a short while before selling the shop to Livingstones, who incorporated the neighbouring half shop and continued to run it as a chemists.
Number 105, was A Inman newsagent and tobacconist, with a toy department upstairs. Arthur, a short stocky man with glasses, would drive his black Rover car in the early hours of the morning to Withington railway station to collect the newspapers and take them to the shop, where, in his short sleeved fairisle pullover and with a cigarette in his mouth, would arrange them for delivery by the paperboy, writing the house number on each and slapping it down with his hand before collating the next. This procedure was repeated at four o'clock when the afternoon paper train dropped off the evening papers. Arthur was assisted by his wife and son.
Tobacco was an important item then and an elaborate display of ColibrI cigarette lighter parts dominated the shop counter.
When Arthur died, his son ran the shop for several years before selling. The business subsequently changed hand a few times but retained the Inmans name.
Number 107, now part of Inmans, was Dobbins ladies wear and lingerie; this was a rather grand shop with two large windows displaying creations in pink and gold and the entrance set back to allow two further side windows. Being a young boy I did not have occasion to go inside.
Number 109, now Fusion Deli, was Russell's, fruiterers, fishmongers and game merchants. In addition to fruit and vegetables, rabbits before myxomatosis, would be on display together with fowl and fish, I used to admire the deep red Scottish salmon with blood slowly oozing into the bed of ice where it lay. The latest offerings would be written on the windows in white chalk.
Number 111, now Didsbury Wine, was another pair of half size shops, the first was a jewellers which subsequently became an estate and business agent, and the second was Beverley's a wine shop and off-licence run by a cheerful rather glamorous lady who lived nearby.
Number 113, now Ho Ho's, was Long's sweetshop where one could buy aniseed balls, Dolly mixtures, liquorice allsorts and the like, the counter was lined with tall jars of sweets. It was a poor relation to the luxuriously inlaid wood panelled Clifton's, which was around the corner in the white Williams Deacon's bank building, now RBS. Clifton's sold their own chocolate together with what were then exotic continental makes such as Lindt, Peter and Tobler. They also sold a rather delectable coffee flavoured caramel called Hopjes, which were made in Holland by Frank Rademaker. Clifton's eventually closed and was acquired by a Lebanese gentleman who turned it into a rather dingy Asian food and produce shop. He subsequently disappeared and it was sad to see a once proud shop decay into an eyesore, before eventually being subsumed into RBS.
Incidentally the site of the cash dispenser next to the bank entrance used to be a ladies hairdresser and later the office of solicitor Ivor Million
Number 115, the end shop in the arcade, now Escape, was Christy's bakery and patisserie, the bakery was behind the shop and I remember going early in the morning before the shop was open and knocking on the bakery door to buy bread and cakes still warm from the oven.
Entire content © Victor Cattan September 2012